Ludovica+Roberto
Palomba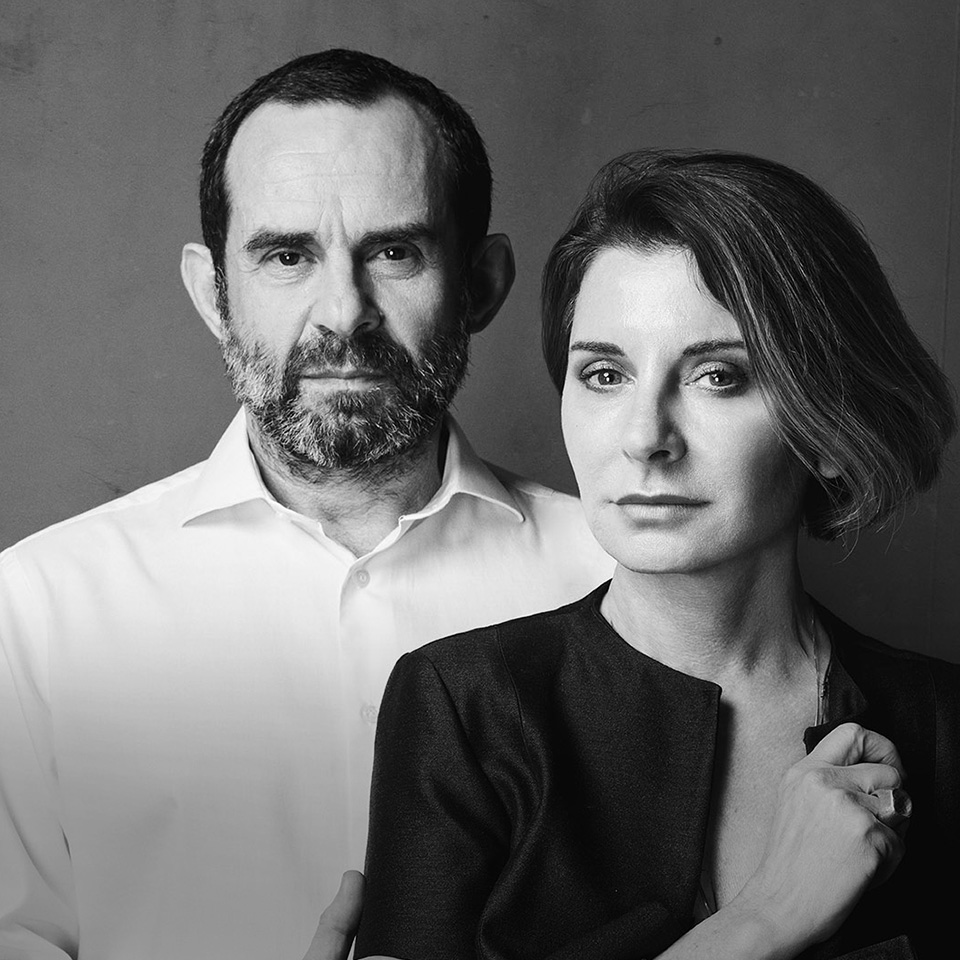 Ludovica+Roberto Palomba, the golden couple of Italian design, for over 25 years have been designing products that escape the trends.
First of all, they have a philosophical approach: the search for essence in every project, closer to the concept of balance of oriental heritage rather than to the nordic style, the goal of their work is not only an aesthetic result but the well-being.
A bold design, without inconsistencies, equidistant from the excess in the decoration and radical minimalism, the result of a selection of values and themes rather than a downsizing project.
The organic form and the squareness, incoherent worlds that they've been able to make them talk to each other, for example in the bathroom world that recognizes them as absolute protagonists.
A design which aims to bring the greatest number of people together, it is not random that their research has mostly focused on industrial molds and serial production, for a more democratic vision, but they do not consider a crime the search for that part of the artisan tradition that can preserve and pass on the culture of Italian knowledge making, confirming their dualistic and curious nature.
Their sign is mature and controlled, which binds coherently like a fil rouge, very different projects, where every function, every shape, every aesthetic is transverse in a temporal dialogue from one object to another from one company to another, a deconstructed vocabulary that generates a free vocabulary because as they claim "No freedom can restrict the freedom of others".
In 25 years they have investigated practically all the types of furniture, dressing with emotions the functions without ever being repetitive even if they are recognizable.
Their products are born to last, not only in the market but especially as companions, silent and faithful in the lives of the people who choose them, this is the key to their success, the ability in a world that screams and desperately tries to be recognized, the desire to become abstract, to give lasting happiness and well-being, by participating rightfully in the customs of everyday life.
Ludovica e Roberto Palomba say "It would be easier for us to use decorations and figures of speech than to investigate politeness", their ability to project over the years has influenced many areas and has recently landed in architecture, boating and contract following the bulimic curiosity that has never left them.
They have received numerous international awards and recognitions such as Compasso D'Oro, Elle Decoration International Design Award, Red Dot, Design Plus, Good Design Award and German Design Award.
They collaborate and are art directors for some of the most established brands: Antolini, Benetti, Bisazza, Boffi, Brix, Cappellini, Dornbracht, Driade, Elica, Elmar, Exteta, Fiam, Flaminia, Foscarini, Kartell, KitchenAid, Kos, Laufen, Lema, Plank, Poltrona Frau, Rapsel, Redaelli, Salviati, Sawaya & Moroni, Samsung, Schiffini, Tubes, Valli&Valli, Viccarbe, When Objects Work, Zanotta, Zucchetti.